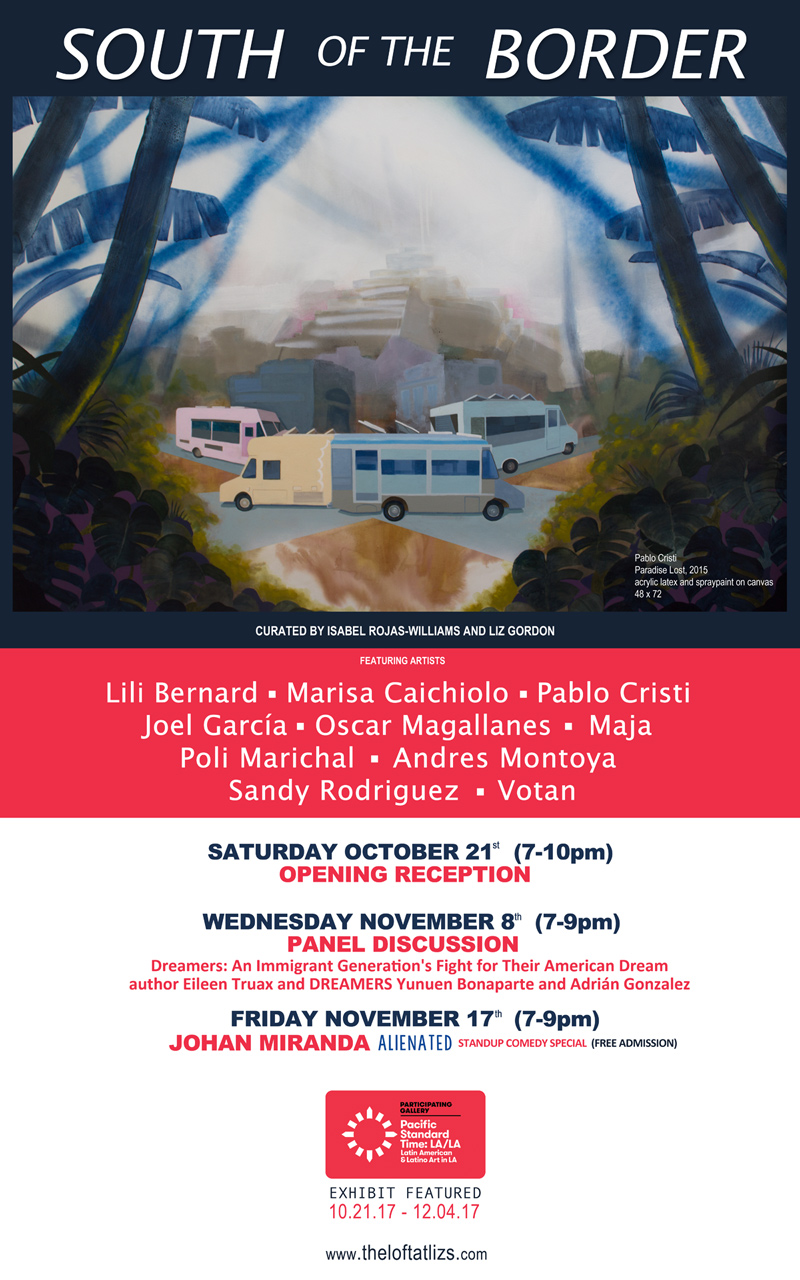 "South of the Border" is an exhibition addressing the timely and controversial topic of immigration through the works of ten artists.  Featured artists include (in alphabetical order): Lili Bernard, Marisa Caichiolo, Pablo Cristi, Joel García, Oscar Magallanes, Maja, Poli Marichal, Andres Montoya, Sandy Rodriguez and Votan.
WED. NOV. 8th (7-9pm)
In conjunction, the gallery will present a panel discussion with Eileen Truax, author of Dreamers: An Immigrant Generation's Fight for Their American Dream.  Dreamers concerns the generation brought to the United States as children—and now fighting to remain here legally. The panel will also include Dreamers Yunuen Bonaparte & Adrián Gonzalez. (free tickets)
FRI. NOV. 17th (7-9pm)
Comedian and Dreamer Johan Miranda presents his solo performance "ALIENATED" – addressing the topics of immigration and DACA in this one-night-only standup special. (free tickets)
"South of the Border" is jointly curated by Liz Gordon (The Loft at Liz's) and curator, art historian, and civic activist Isabel Rojas-Williams (former Executive Director of the Mural Conservancy Los Angeles).
South of the Border is part of the Participating Gallery Program of Pacific Standard Time: LA/LA, a far-reaching and ambitious exploration of Latin American and Latino art in dialogue with Los Angeles, taking place from September 2017 through January 2018 at more than 70 cultural institutions across Southern California. Pacific Standard Time is an initiative of the Getty.
---