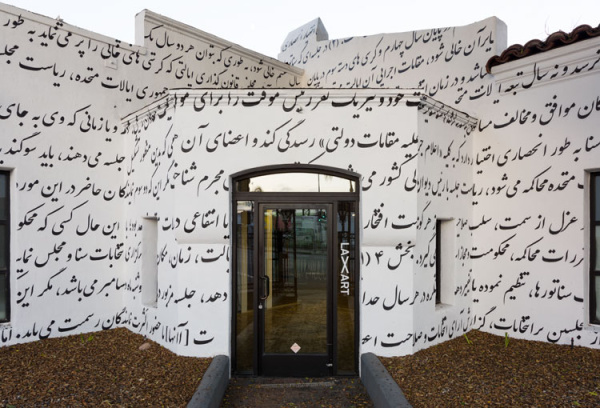 RECONSTITUTION
Apr 23 – May 27, 2017
Opening Reception: 
April 23, 2017, 4pm—7pm
Reconstitution is a group exhibition that is an update and recasting of the 1987 exhibition Constitution originally organized by the art collective Group Material. The exhibition will include work by: Kathryn Andrews, Shagha Ariannia, Gretchen Bender, Dawoud Bey, Mary Ellen Carroll, Ching Ho Cheng, Tseng Kwong Chi, Sonya Clark, Joeff Davis, Sid M. Duenas, Melvin Edwards, Ridykeulous (Nicole Eisenman & A.L. Steiner), Rafa Esparza, Lauren Davis Fisher, Arshia Haq, Rachel Harrison, Sharon Hayes, Edgar Heap of Birds, Brendan Fowler/Election Reform, Gronk, Anish Kapoor, Gelare Khoshgozaran, Kang Seung Lee, Zoe Leonard, Steve Locke, M (aka Michael Chow), Van McElwee, Harold Mendez, Mike Mills, Jenny Perlin, Jefferson Pinder, Christina Quarles, Umar Rashid, Marie "Big Mama" Roseman, Peter Saul, Augustus Sherman, Maryam Taghavi, Mark Themann, Danh Vo, Christine Wang, Timothy E. Washington, Lawrence Weiner, and the AIDS Memorial Quilt.
LAXART Text installation by Oscar Magallanes with assistance by Aaron Estrada, Alfreda Diaz and Adrian Alfaro.