PST LA/LA's South of the Border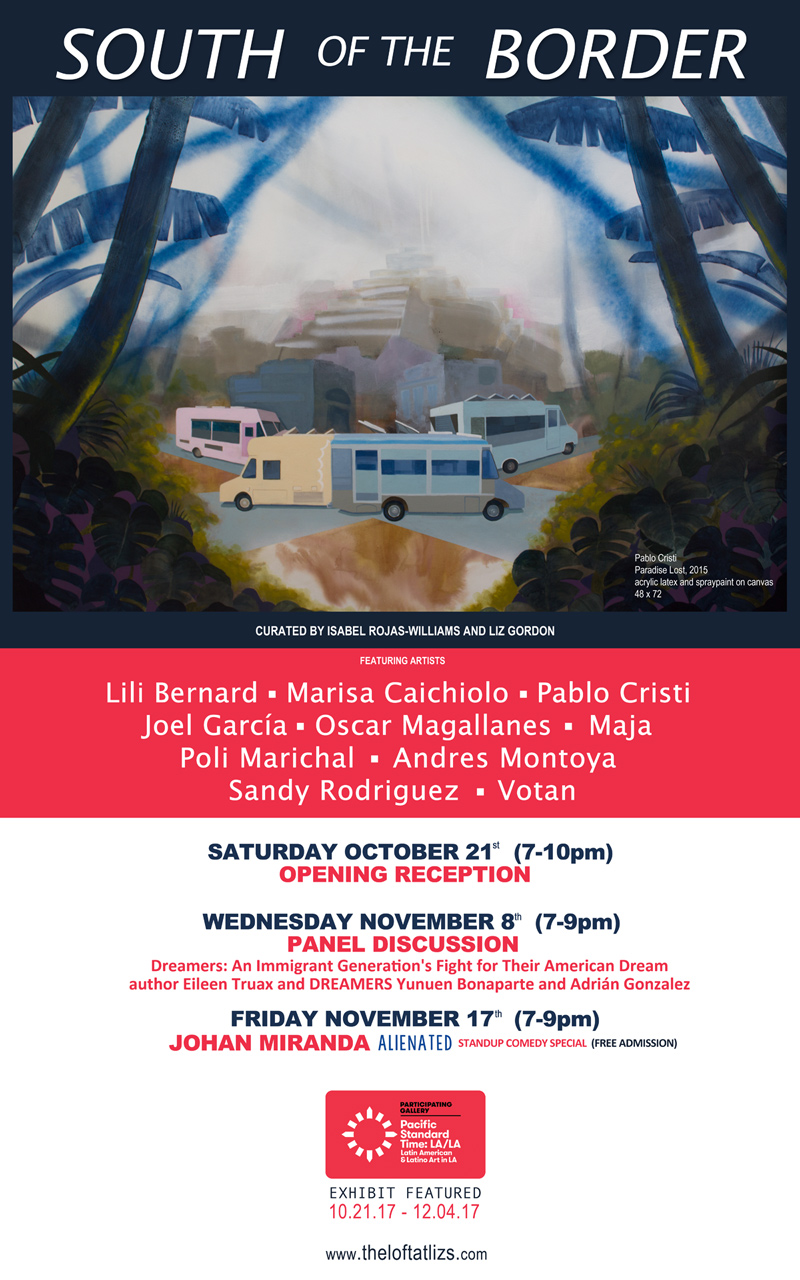 "South of the Border" is an exhibition addressing the timely and controversial topic of immigration through the works of ten artists.  Featured artists include (in alphabetical order): Lili Bernard, Marisa Caichiolo, Pablo Cristi, Joel García, Oscar Magallanes, Maja, Poli Marichal, Andres Montoya, Sandy Rodriguez and Votan.
WED. NOV. 8th (7-9pm)
In conjunction, the gallery will present a panel discussion with Eileen Truax, author of Dreamers: An Immigrant Generation's Fight for Their American Dream.  Dreamers concerns the generation brought to the United States as children—and now fighting to remain here legally. The panel will also include Dreamers Yunuen Bonaparte & Adrián Gonzalez. (free tickets)
FRI. NOV. 17th (7-9pm)
Comedian and Dreamer Johan Miranda presents his solo performance "ALIENATED" – addressing the topics of immigration and DACA in this one-night-only standup special. (free tickets)
"South of the Border" is jointly curated by Liz Gordon (The Loft at Liz's) and curator, art historian, and civic activist Isabel Rojas-Williams(former Executive Director of the Mural Conservancy Los Angeles).
South of the Border is part of the Participating Gallery Program of Pacific Standard Time: LA/LA, a far-reaching and ambitious exploration of Latin American and Latino art in dialogue with Los Angeles, taking place from September 2017 through January 2018 at more than 70 cultural institutions across Southern California. Pacific Standard Time is an initiative of the Getty.
---
Descendants and Dissonance: Cultural Iconography in contemporary L.A.
At Salt Fine Art, Laguna Beach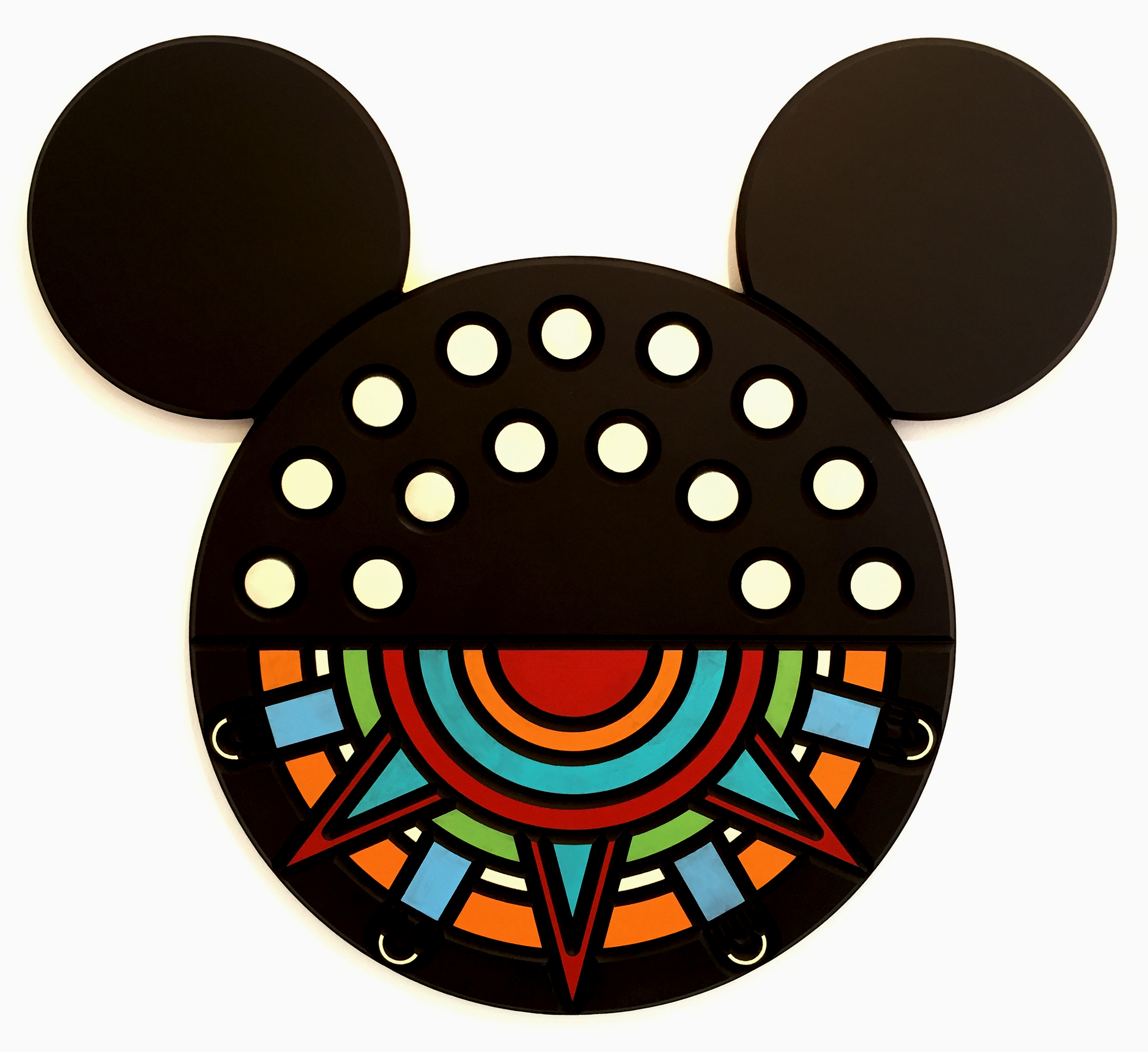 September 19 – October 31, 2017
This exhibition is proudly associated with Pacific Standard Time: LA/LA
#PSTLALA
Participating Gallery site: pacificstandardtime.org/en/gallery-exhibitions/
Descendants and dissonance: Cultural Iconography in contemporary L.A. brings together the work of three graphically inspirited artists, Oscar Magallanes, Linda Vallejo and Sonia Romero, Los Angeles based and deeply tied to Chicano culture and the tradition of challenging propagandist iconography through the use of irony and appropriation. This exhibition seeks to correlate directly with How to Read El Pato Pascual: Disney's Latin America and Latin America's Disney  and The Making of the Modern: Indigenismo, 1800-2015 at the San Diego Museum of Art in the idea of creating identity and the use of iconography as political and cultural tools.
Oscar Magallanes, creates across a spectrum of different interlocking mediums. Laser cut wood, video and stenciling create a hyper-detailed narrative that speaks directly to the history of propagandist iconography sourcing its power from the emotional experiences of the people who have most suffered from corporate imperialism. Through an alchemic combination of imagery, the work aims to be a visual documentation of suppression and creation, life and death.
Linda Vallejo created one of the most inspired bodies of work on the subject of popular culture and the effects it has on the hearts and minds of the people it seeks to influence with her series, Make 'Em All Mexican. Drawing from her experiences growing up in Europe and the United States, her overwhelming sense of feeling "other" and the complete lack of any reflection of herself in the strain of popular culture strong enough to make it around the world (Disney films, Saturday morning cartoons, Barbie, etc.)
Sonia Romero is an artist who utilizes traditional forms of printmaking with deep heart and narrative power and a strong emphasis on micro over the macro. Having studied print making at the Rhode Island School of Design, craft and history anchor the core aesthetic while it is her ability to present deep psychological and inwardly drawn images that speak to feelings community and shared trauma.
Salt Fine Art
346 North Coast Highway | laguna beach, ca | 92651
phone: 949.715.5554
---


 Barrio Logos: Displacement and Vanishing Iconography
This exhibition is proudly associated with Pacific Standard Time: LA/LA
#PSTLALA
Opening reception Oct. 7th 12-5
Curated by Oscar Magallanes
The Chicano movement in Southern California, born out of the Civil Rights movement of the 1960s, gave rise to art, murals, west coast handstyle graffiti, tattoos, and literary works along with lowrider culture and fashion as forms of self identification and cultural pride in the midst of oppression and segregation. This unique style has spread to many countries but in Los Angeles it has faced persistent attacks whether in the form of criminalization or steep fines placed on unsanctioned murals. This has created an erasure of the cultural markers that speak most clearly in opposition to systemic racism. There is a heightened urgency to preserve and document this work in the midst of rapid gentrification. This exhibition brings together artists that not only continue to use Chicano aesthetics but also uphold the use of art as a means of challenging dominant narratives.
Participating Artist: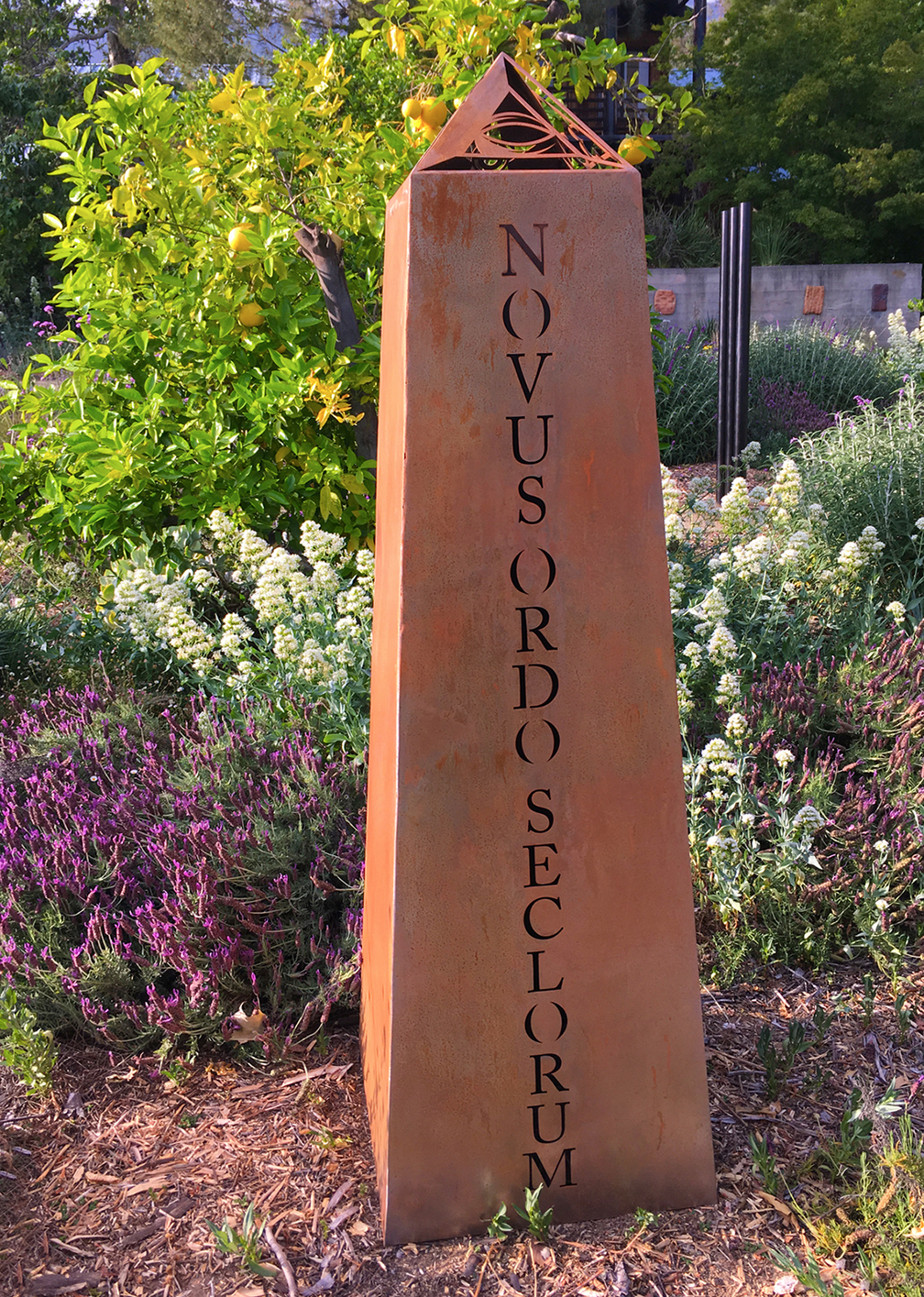 Sculptures by Six
May 7 – October 28, 2017
A Garden Gallery Installation in the Maloof Lemon Grove
Join us on Opening Day, Sunday, May 7 from 1:00 to 3:00pm
Artists Featured:
Kristi Lippire
Dee Marcellus Cole
Williams Catling
Joyce Kohl
Oscar Magallanes
Gina Lawson-Egan