La Plaza: A Center of Injustice and Transformation in Los Angeles
March 3–July 16, 2023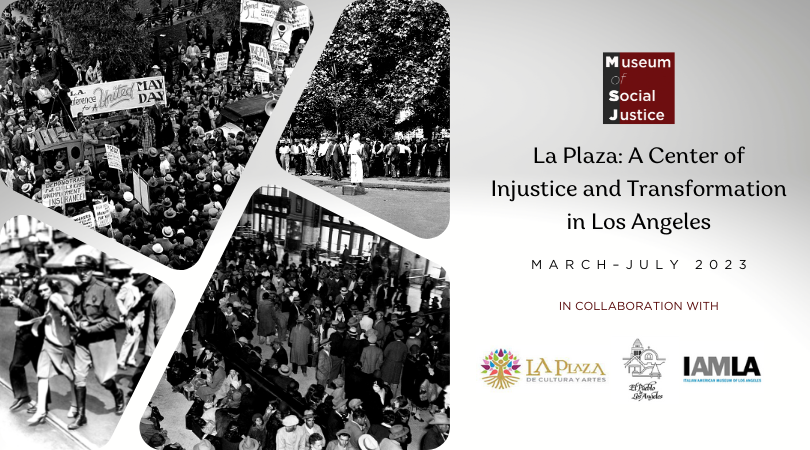 In celebration of the tenth anniversary of the Museum of Social Justice's inaugural exhibition, Angels on the Plaza, this survey exhibition explores La Plaza de Los Ángeles, the birthplace of the city, as a center of injustice and transformation. From its beginning, La Plaza has been a hub of diversity, strife, and social and political change. It has been a place of contradiction. It has been a place where American Indians; African, Mexican, and Spanish settlers; Chinese and Italian immigrants; and Anglo-Americans lived and worked among one another. 
 
This diversity often led to discord and unity at La Plaza. It was a place of injustices where racism led to the deportation of Mexican residents, the massacre of Chinese residents, auctions of American Indians, and heavy police surveillance of marginalized people and activists. Yet, it was also a place of transformation, where the city's free speech area and first integrated drinking fountain were located. Immigrants could access extensive social services through La Plaza United Methodist Church and La Plaza Community Center. Worker unions formed here; civil and labor rights campaigns were fought here; and both exiled and native revolutionaries sought social and political change through art, writing, and demonstrations here. Throughout its history, La Plaza has been a place of protest, a place to fight against the city'sinequalities and seek justice for all its residents. Two centuries later, this legacy continues, as Angelenos fight for change among La Plaza's historical sites and outside the shops and restaurants of Olvera Street, accompanied by the music and dance of the city's residents. 
 
This project was made possible through the support of and with contributions by the Museum of Social Justice, La Plaza de Cultura y Artes, El Pueblo de Los Angeles Historical Monument, and the Italian American Museum of Los Angeles.